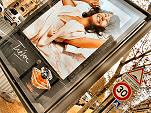 Palais Royal Ramble
Photographically speaking, it is hard to beat this tour for the sheer volume of superb images just waiting to be captured by the inventive eye and able hand. Historically speaking, you can't really get any more historic than the Palais Royal and the Musée du Louvre!
From Buren's controversial black and white columns to the amazing glass pyramids of the Louvre (including the secret upside down one!), passing by the stunning Galérie Vivienne, Maillol's famous statues and lazy Parisiens in the Tuileries gardens, not forgetting the most unbelievable metro entrance you have ever seen (le Kiosque des Noctambules - the Night-walkers' Pavilion) our Palais Royal Ramble really has it all. We'll finish our tour with a friendly photo critique of our efforts (for those of us who took our photos digitally, of course)!

Tour Highlights:
Buren columns, Palais Royal gardens and sculptures, square-tree-lined avenues, Louvre pyramids, Maillol sculptures, Galleries Vivienne and Colbert, Kiosque des Noctambules metro entrance, Place de la Concorde.

Dates & Times:
Mornings, Afternoons and Evenings, tours around 3 hours, 7 days a week. Please contact me with your request and I will tell you what is available.

Meeting Point:
Right next to the Palais Royal/Musée du Louvre Metro entrance (line 1) outside in the Place du Palais Royal just across the road from the Louvre.

Price:
€150 per person - reduced prices for more than one person, plus check for last minute special offers, up to 50% off!

Check Availability & Book Up:

We reserve the right to make changes to the itineraries if circumstances beyond our control occur.