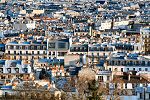 Mysterious Montmartre
Montmartre... the very name conjures up images of penniless artists and steep winding streets, weather-beaten windmills and timeless cafes, and... they are still there!
Avoiding the typical tourist traps for the most part, this superb tour will show you the secret Montmartre, the hidden corners and unexpected sights which you will capture forever with your cameras. We finish up, nevertheless, at the stunning Sacré Coeur and its panoramic view of Paris, before retiring to a typical bistro in the artists square Place du Tertre and a friendly photo critique of our efforts (for those of us who took our photos digitally, of course)!

Tour Highlights:
Historic Art Nouveau Metro Station, Le Lapin Agile cabaret, historic windmills, unusual statues, artists' studios, narrow cobbled streets, vinevard, water tower, Sacré Coeur, steep steps, characterful cafés.

Times:
Mornings, Afternoons and Evenings, tours around 3 hours, 7 days a week. Please contact us with your request and we will tell you what is available.

Meeting Point:
Right next to the art nouveau Abbesses metro station exit (line 12, direction Porte de la Chapelle, just north of Pigalle).

Price:
€150 per person - reduced prices for more than one person, plus check for last minute special offers, up to 50% off!

Check Availability & Book Up:

We reserve the right to make changes to the itineraries if circumstances beyond our control occur.